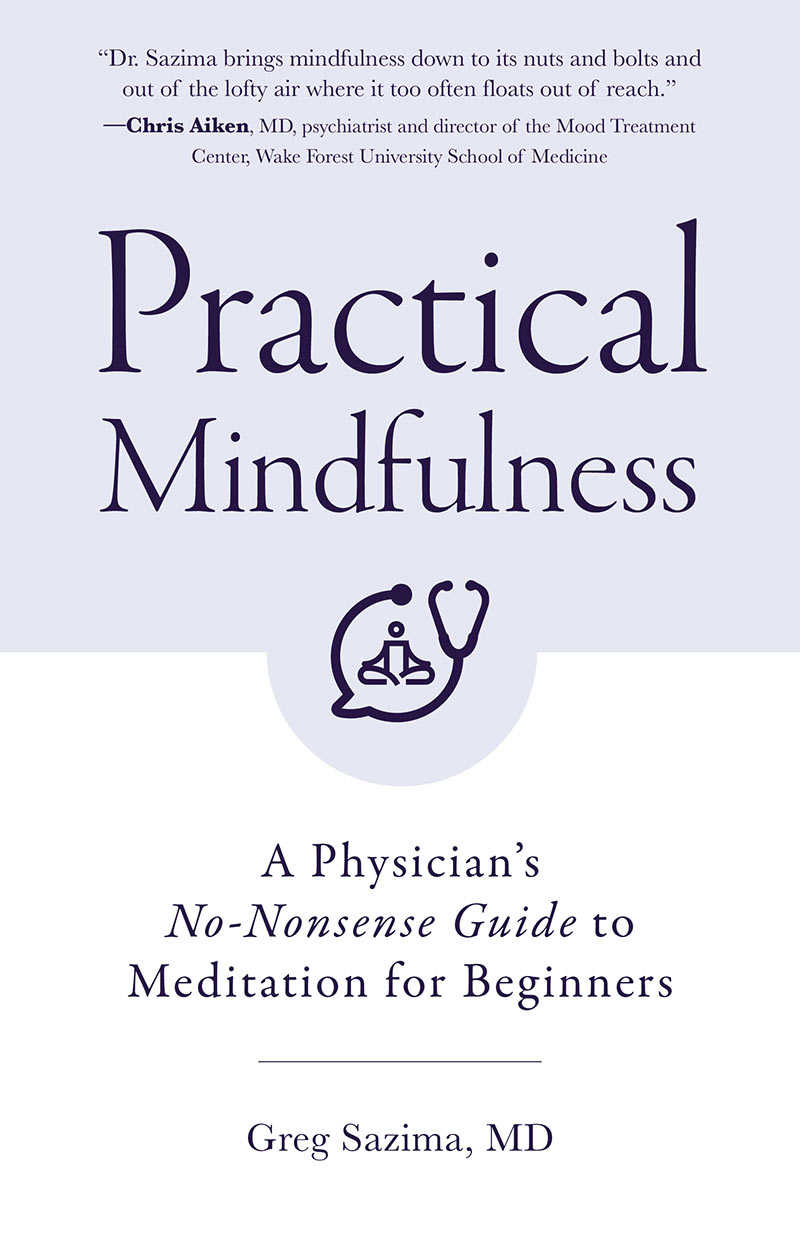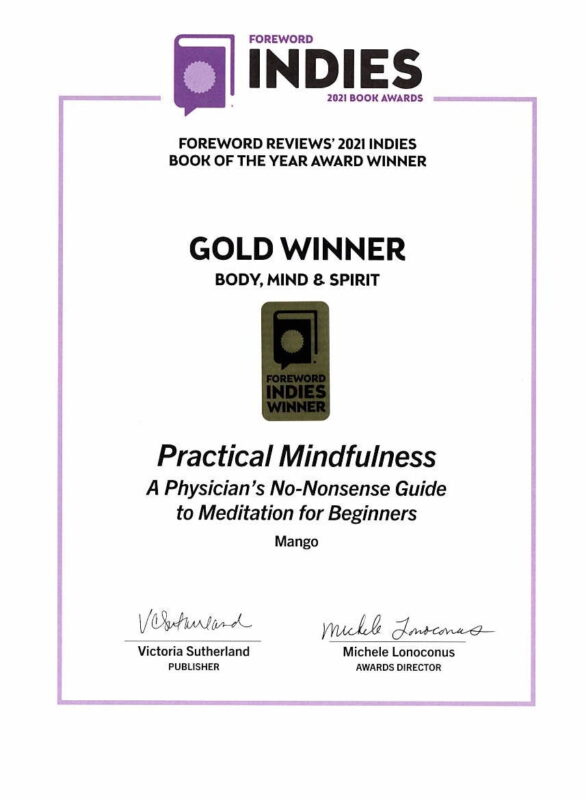 Burned out in these uncertain times? We can adapt.  Here's how.
2021 Foreword Reviews INDIES Gold Winner – Body, Mind & Spirit (Adult Nonfiction)
2021 Foreword Reviews INDIES Finalist – Self-Help (Adult Nonfiction)
Thousands of books are entered each year, and over 100 librarians and booksellers take part in the judging process, narrowing down a group of finalists in 55 categories to Gold, Silver, and Bronze winners that truly represent the best in independent publishing.
"Practical Mindfulness" takes an informal, accessible, irreverent approach to demystifying mindfulness and mastering meditation. It leads readers from the very basics of breath meditation to deeper practices in training our awareness – using memorable teaching concepts and structured training exercises. With modern life becoming more distracting and uncertain by the moment, mindfulness is an essential skill set to navigate that distraction–and build an adaptive, fulfilling life.
"An insightful and demystifying look at mindfulness practice." -Kirkus Reviews
"California psychiatrist and meditation expert Greg Sazima's audiobook exhibits the casual abandon of someone who has truly mastered the art of "giving it a rest." He trains family medicine residents at a Stanford hospital and, with his history of surviving serious bone cancer, comes across as a complex but accessible meditation teacher who knows a lot about the pleasures and misunderstandings surrounding the ancient practice. Narrator Daniel Henning's enjoyable performance captures the author's likable persona and grasp of the human condition. The community theater director's cheery performance serves as a bouncy, complementary vehicle for the author's conversational writing. His delivery is crisp and dramatic but never upstages Sazima's optimistic sensibilities or minimizes the pathos in the author's personal journey."  – AudioFile
Practical Mindfulness is the no-nonsense, no-incense guide to mindfulness and meditation.  Mindfully breathe in and out with this accessible guide to meditation for beginners. Learn the life-changing benefits of mindfulness to navigate this uncertain moment.
Practical Mindfulness teaches readers that our real home, a place we can always return to, no matter the circumstances, is actually inside of ourselves. Practical Mindfulness' clear training helps readers respond and adapt to the inevitable opportunities and stresses of contemporary life. Beginning meditation is often made more complicated than it needs to be. Practical Mindfulness simplifies it and eases the way to getting a solid practice going.
AVAILABLE IN PRINT, DIGITAL AND AUDIO FORMAT
Read More

Practical Mindfulness

stands out.

Training exercises that work. Practical Mindfulness is a hands-on, how-to, irreverent read – appealing to all readers curious about meditation, and especially health care and education professionals looking to convey the fundamentals of meditation to their patients and students. We can all benefit from these effective coping strategies in the midst of all that is happening… from COVID to the current political climate.
An accessible approach to finding "home" — our own feeling of peace of mind.  When we face challenges–from a tough day at work to a life-threatening health problem–we can realize there is no sustainable outside solution. But with a more developed interior awareness, we can reduce stress, anxiety, and depression — and build resilience.
Meditation training from an expert. Dr. Sazima is a board-certified psychiatrist, an educator of family doctors-in-training at Stanford's Family Medicine Residency, and an experienced meditator and meditation teacher. He is also a survivor of a rare bone cancer, using the powerful practice of meditation to navigate his own medical crisis and "pay it forward" to show why and how meditation works in an accessible and entertaining way.We can adapt – Practical Mindfulness shows us how.Readers of books such Think Like A Monk, Breath: The New Science of a Lost Art,

 

and 10% Happier will love Practical Mindfulness.
Debut author Sazima's work as a practicing psychiatrist in San Jose, California, often brought him into contact with people who wanted to be "collaborators in their treatment." He and his colleagues noticed that several patients seemed stuck in a cycle of poor health. However, after the author established a class on the basics of breath control and meditation, some patients quickly showed improvement, he says. Sazima goes on to recommend these same methods to his readers, offering a series of painless, jargon-free introductions to their basic tenets. His overviews present clear instructions and explanations, as when he urges the reader to concentrate, during meditation sessions, on the simple beating of one's heart: "The stilling of activity to allow witness of the heart beating," he writes, "can itself bring great calm, even literally allowing that beat to gently rock the body at rest." In addition to these general approaches, Sazima also provides a steady thread of simple encouragements aimed specifically at beginners who might be frustrated by minimal initial progress: "The overall trajectory for just about everybody…is of overall improvement." The combination of Sazima's expertise and upbeat spirit make his book an inviting reading experience. It also uses helpful photos, graphs,and illustrations to make its points, and Sazima makes the inspired decision to often adopt a carefree, joking tone; he knows that his subject may be intimidating to newcomers, and his occasional wisecracks (such as the chapter title "You'd Better Sit Down for This: A Few Preparatory Words on, uh, Sitting") effectively work to defuse that reaction. At the same time, he makes it clear throughout his book that the key enemy of meditation is distraction and that regaining the power to focus is of great value.
An insightful and demystifying look at mindfulness practice.
Kirkus Reviews

Kirkus Reviews
"Practical Mindfulness is a gem of a book designed to help incorporate mindfulness into our lives.  Greg Sazima knows his audience. He writes with wisdom, insight, and humor and in an original voice. This practical and highly readable book integrates helpful case examples and exercises with mindfulness knowledge."
Melanie Greenberg, PhD

Melanie Greenberg, PhD

,

Psychotherapist and author, Marin, CA; Author, The Stress-Proof Brain
"What a delightful, fun and informative book. It's a very practical guide to anyone wanting to learn more about meditation and to anyone wanting to enhance their experience with meditation. Dr. Sazima has a great way with words and takes you on a enjoyable journey to enlightenment, peace and harmony. As some one who meditates daily, I thoroughly enjoyed the book and will recommend it to all my friends, family, colleagues and clients."
Roland Williams, MA, LAADC, NCACII, CADCII, ACRPS, SAP

Roland Williams, MA, LAADC, NCACII, CADCII, ACRPS, SAP

,

Master Addictions Counselor, Educator, Consultant; Author of Recovery is a Verb
"I wholeheartedly recommend Dr. Greg Sazima's book, Practical Mindfulness. It is an extremely user-friendly book that is essential to both everyday users who need new skills for how to be "in the here and now" and deal with stress, as well as a wonderful read for mental health professionals to add to their tool bag of counseling skills. I teach Motivational Psychology and plan to add this book as required reading for both my undergraduate and graduate students."
Holly Davani, MA, HPI

Holly Davani, MA, HPI

,

Certified behavioral trainer, Baltimore, MD; Associate Graduate Faculty, Department of Psychology, Towson University
"As a psychiatrist, I regularly recommend mindfulness meditation because I know I am supposed to, but I always felt intimidated when I would try it myself. Dr. Sazima's humor and humanity make this practical guide just the right place to start, or jumpstart, your own mindfulness practice. Practical Mindfulness is the one book I recommend to my patients, even when they don't believe they want to start meditating."
Lisa Goldstein, MD

Lisa Goldstein, MD

,

Child and Adolescent Psychiatrist, Philadelphia, PA
Practical Mindfulness is a clearly written guide to the practice of meditation and mindfulness. Step by step, Dr. Sazima leads us through exercises that lead to deeper meditation, while at the same time describing the philosophy behind mindfulness drawing on a wide range of concepts from quantum physics to neuroanatomy. The book is written in clear language with a dollop of humor so that it succeeds in being not only informative, but also entertaining. Anyone who reads Practical Mindfulness will find it an indispensable guide to leading a more mindful life.
John O'Neal, MD

Psychiatrist, Sacramento, CA; co-author of Handbook of Clinical Psychopharmacology for Therapists
Dr. Sazima brings mindfulness down to its nuts and bolts and out of the lofty air where it too often floats out of reach. He speaks from the heart, not just as a physician but as a patient who found benefit through meditative practice and brought those techniques to patients with medical and mental disorders. At times solemn, at times irreverent, but always genuine, he's put it all here on the page. Read it, but more importantly, do it.
Chris Aiken, MD

Psychiatrist, Director of the Mood Treatment Center, Wake Forest University School of Medicine; Editor-in-Chief, Carlat Psychiatry Report; author, Bipolar, Not So Much: Understanding Your Mood Swings and Depression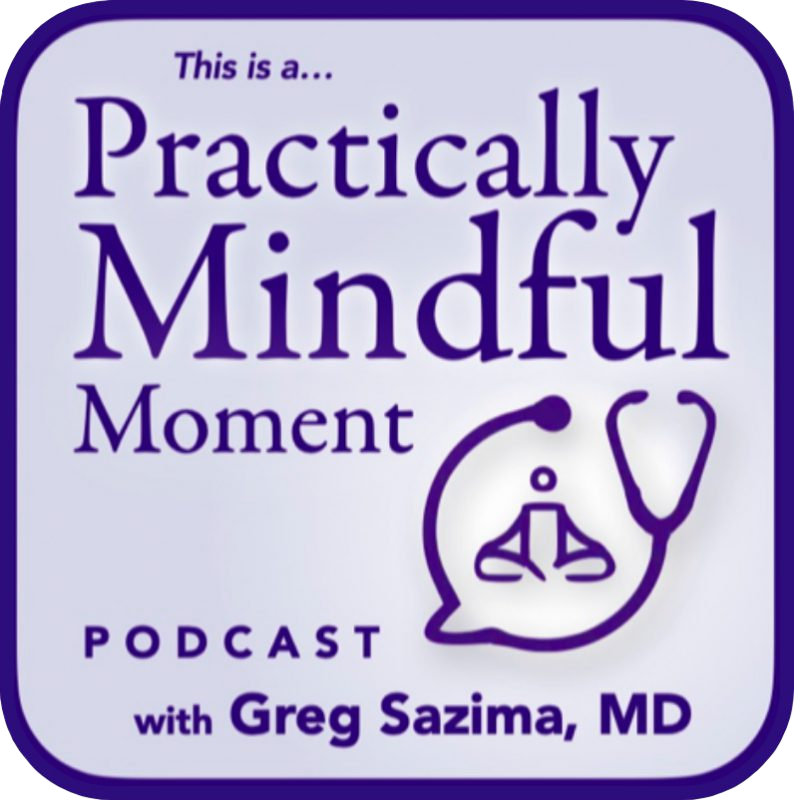 A Practically Mindful Moment
The Practically Mindful Moment podcast features brief morsels of information on concepts and tactics from Dr. Greg Sazima's new book, Practical Mindfulness: A Physician's No-Nonsense Guide to Meditation for Beginners (Mango Media, release date 1/19/2021). Each PMM clocks in at a user-friendly ten minutes or so; just a brief tuning in, a learning opportunity, and brief guided exercise in mindfulness. (And a quick, shameless plug for the book.) Enjoy!
12 Episodes